USUGROW Interview #01 - Art and brand history 1993~1996.
Hi, this is Kitsunai, online store manager of Organic Contrast.
I would like to run a series of interviews with Usugrow from now.
For the first interview today, I would like to focus on things that he has never talked in details before. We'll talk about his creation and artistic approach in the early days when Usugrow was mid 10's and influenced a lot by the local music scene like hardcore around 1996.
O/C Kitsunai:
You've already done tons of interviews about your activities as an artist on other magazines in past, so today I would rather want to ask about your background and the story about when you started drawing and launched your own brand.
USUGROW:
No problem. It was about 20 years ago when I first started making things.
O/C Kitsunai:
What has made you to do that?
USUGROW:
If you are artist, you usually start drawing on canvas and show them at exhibition, but for me, it was a flyer, album cover and T-shirt to show my artwork. If you are into music or skateboarding scene, flyer, tshirt, sticker are much more familiar.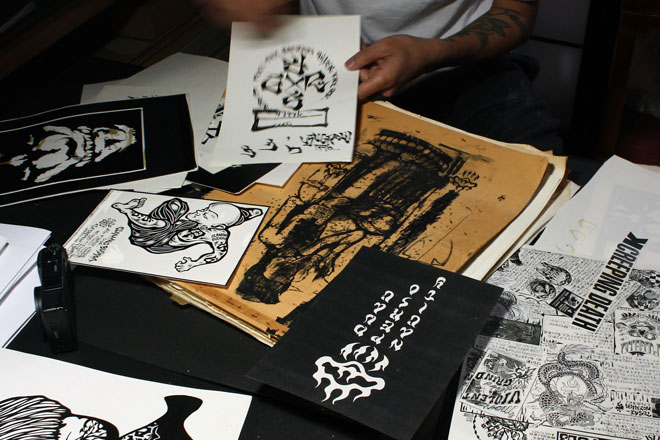 layout paper of the logo artwork around 1993, layout paper of the zine, test printing of silkscreen.
O/C Kitsunai:
I see. What kind of music and artist were you into back then?
USUGROW:
As for art, I liked Pushead, Michael Seiff, RxCx, SUGI, TOM and YOSSIE. As for sound, I used to like hardcore, thrash metal such as Suicidal Tendencies, DRI, COC, Exodus, VIO-LENCE, Forbidden like Bay Area thrash metal.
O/C Kitsunai:
Let's just go back to the story, did you get to know about Pushead before you listen to this kind of music? Or did you already know his art before music?
USUGROW:
I got into the music first when I was a high school student. I saw the merchandise of Metallica, then I saw the same thing on ZORLAC skateboard that my friend had. I got to know about Michael Seiff from the album cover artwork of Suicidal Tendencies.
O/C Kitsunai:
I see, how did you get to hear their music then? In my case, it was Jackie Chan when I trace my roots.
USUGROW:
Ha! Project X!
O/C Kitsunai:
No, it was Project A, then Wheels On Meals next.
USUGROW:
What!?!? Why Jackie then?O/C Kitsunai:Didn't we used to play a kung-fu when we all wanted to be Jackie Chan as a kid? Jackie was riding a skateboard in the movie and it looked really cool. I tried to be like him and here I am.USUGROW:Got you. Cool choice, you didn't choose Michael J. Fox.
O/C Kitsunai:
Yeah, Michael J. Fox doesn't do kung-fu. Well, let's get back to talking about meeting music.
USUGROW:
All right. I rented a CD when I was a high school kid. It was a Japan tour special edition of ONE, and they were all wearing black sunglasses and riding jackets on the cover. I also rented Master of Pappets right next to ONE, and it was so fast and heavy. Then I found the picture of Metallica wearing a T-shirt of Pushead.
As for Suicidal Tendencies, there was a used clothing store hanging the vinyl of their first album, and it was just really cool even the picture of the back cover. I was excited to see the logo that I've seen on Thrasher magazine. I got their CD, then of course, I drew the logo on my T-shirt like the back cover of the first album.
O/C Kitsunai:
Suicidal Tendencies logo and Venice tagging.
USUGROW:
Yep. Soon after I began drawing, I wanted to have my own style of lettings, so I started tagging and doing graffiti little bit. I also liked Chinese character so I mixed them with Alphabets. I used to go tagging together with you, our old band name, SLAMMING BUDDHA.
O/C Kitsunai:
Yeah, yeah, I remember going there with you every night. We used to listen to that kind of music and we were definitely influenced by west coast street culture around them.
USUGROW:
Right. I got into especially US west coast music and culture at first. I started listening hard rock and wanted to hear something more hard like Slayer and Metallica, and I got into more hard ones like US hardcore bands.
I also used to go and see some local hardcore bands in Fukushima, such as BLACKEND and FINE. Then I started hanging around in Sendai, and met the band called HALF LIFE.
That is how I started working on flyers and album covers for these three bands. I really appreciated them for giving me such an opportunity to show my artwork to public. I was also a big fan of them, so I can't thank them enough.
When I first started drawing for a flyer, I also started listening a lot of Japanese bands in early 90's. The first album of Cocobat, Bastard, SxOxB, Kimidori, Akumyo's compilation. I was convinced that Japan has its own excitement here.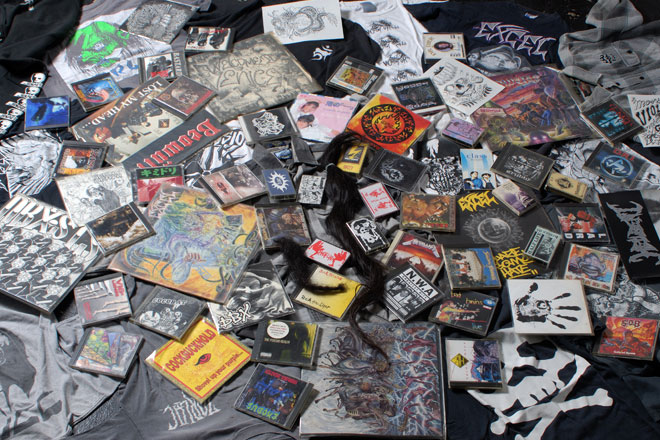 pictures from the first usugrow´s monograph,. T-shirts and sounds that Usugrow was influenced in early days. Just noticed there are some weird ones included here. FYI, the hair in the middle is his own hair. I was in charge of cutting his hair.
O/C Kitsunai:
I see. I was also the one who was strongly influenced by BLACKEND. I gave my first-ever moshing to BLACKEND.
(being nostalgic)
USUGROW:
(being nostalgic)
O/C Kitsunai:
Well, sorry, we haven't even talked about your clothing brand yet.
USUGROW:
OK, let's get back on track!
O/C Kitsunai:
Yeah, we should. So, you started making your own stuff, but how did you used to do that back then? You were making everything like flyer, zine and T-shirt by yourself, right?
USUGROW:
As for flyer and zine, I was making a photocopy at either convenience store or stationary store. Around that time, I always knew where all these good-conditioned copy machines are at. And what was important for me back then was the space to work at. I had to repeatedly enlarge or shrink, or cut and paste a lettering and article there, so I needed the space next to the copy machine since we didn't have PC at that time.

a part of the flyers shown at the solo exhibition in Sendai, in 2005.
O/C Kitsunai:
The best was Sasyu, the biggest bookstore in our hometown.
USUGROW:
Oh definitely! You can insert your own paper manually to the copy machine there. That was quite an important place.
O/C Kitsunai:
Yeah, we were able to use our own paper, and the toner there was rich and cool!
USUGROW:
Yep, the glossy toner for color copy was really a new school back then. And since we were able to insert our own paper, we were making live tickets, even envelopes by ourselves. But for T-shirt, we used "Tshirt-kun", a personal silkscreen print machine.
O/C Kitsunai:
I even thought about making a Tshirt with Sasyu's copy machine, seriously.
USUGROW:
I guess exploring the possibility of creating something within limited tools was really an important experience for us at that time.
O/C Kitsunai:
That's true. With that experience, we were able to see and use the current tool in proper way.
USUGROW:
The same goes for my artwork style. It was almost developed through the limitation. I draw only with black lines and dots because it comes out really well when making a silkscreen. Plate making for half-tone or gradation only work well with half-tone dot. Even the detailed piece comes out very well if you draw clearly with black and white.
O/C Kitsunai:
I see. So these experiences led you to the T-shirt production with Tshirt-kun machine.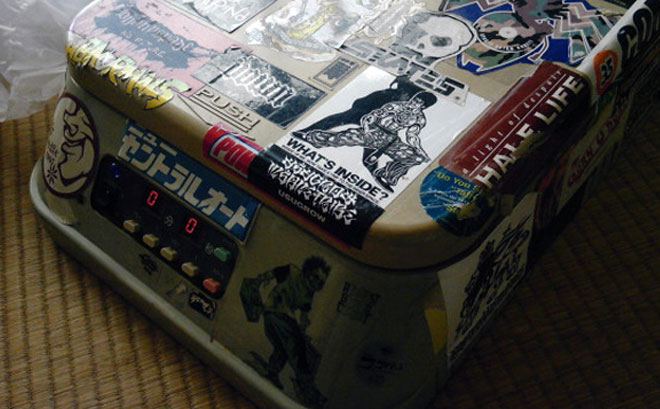 "Tshirt-kun" purchased in 1992.
USUGROW:
Tshirt-kun machine was revolutionary! You can skip the process of photo-emulsion which is hella work to do. (note: The screen of Tshirt-kun was already coated with photo-emulsion.) Actually, I have one year experience of working at the company of Tshirt-kun.
O/C Kitsunai:
What!? Because you like the machine?
USUGROW:
No, I have a certain reason. At my job interview, I presented myself how much I have loved and used Tshirt-kun machine for a long time. I was so excited to work with the senior who was actually the one launched a Tshirt-kun machine. I frequently asked them about the very first story of Tshirt-kun.
O/C Kitsunai:That must be quite a good experience.
USUGROW:
They were so skilled, the people working there are so good at printing.
O/C Kitsunai:
They actually print with the platemaker and frame of the actual Tshirt-kun machine, right?
USUGROW:
Of course they do.
O/C Kitsunai:
Compared with the ones printed in factory, how well do they print? I am sure there is an issue of fineness and so on.
USUGROW:
Pretty good though. They were also quick since they have experienced doing a demo at a department store.O/C Kitsunai:OK, so what kind of motif were you used to draw when making a Tshirt in the beginning?
USUGROW:
I used to draw religious icons like Buddhist image for a T-shirt as well as a flyer, because I just loved it.
O/C Kitsunai:
Oh, I remember.
USUGROW:
The first T-shirt I sold was a mermaid one. It's not like the beginning of my brand, but that was the first time I started selling my own product under my name. However, I was only selling them to my friends.
O/C Kitsunai:
Yeah, I remember that and I still have them at my parents house. What was the name of the brand at that time?
USUGROW:
I don't want to say it here.O/C Kitsunai:Burning… something?USUGROW:Stop.
O/C Kitsunai:
All right, let's get back to the point.
USUGROW:Yes we should. That mermaid piece has actually helped me developing into my current style directly.
O/C Kitsunai:I see. Those Buddhist images came after the mermaid?
USUGROW:
Yeah. The early mermaid was only drawn by outlines, then I started adding a pointillist effect to the image in order to make shadow.
As mentioned about the motif earlier, I wanted to draw a skull in early days because I like it, but I tried not to because Pushead and other artists were already drawing a skull.
The same goes for pointillistic drawing, lots of people were already using that method for flyer making, so I tried to do in a different way. However, I couldn't find any better solution, so I started doing pointillistic drawing which can be stable enough for making silkscreen plate and photocopy.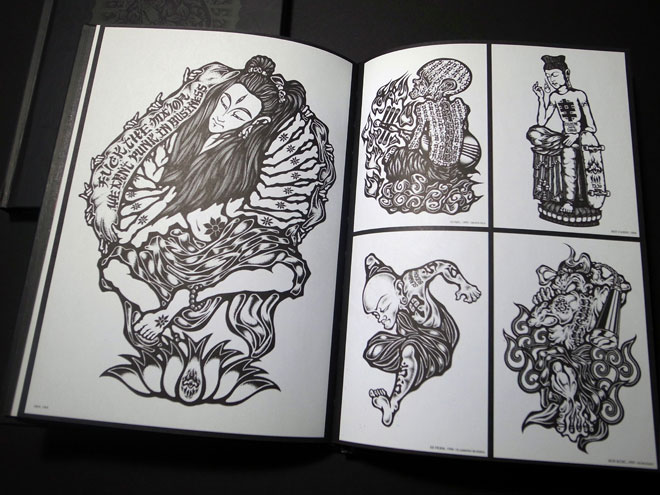 artworks from 1993 to 1995, very early days. They are also featured in the first monograph.
O/C Kitsunai:
Is it because you see them as a competitor even though you were influenced by Pushead and other forerunners?
USUGROW:
Yes. I was a big fan of them but didn't want to be a follower as an artist. I knew that I rather not do if it becomes something similar.
O/C Kitsunai:
So you tried not to draw a skull. But then, why did you start drawing a Buddhist image after a mermaid?
USUGROW:
I like something with beautiful curves. Some people think that I draw it because I am Japanese, but it's not like that.
O/C Kitsunai:
Hm-hum.
USUGROW:
I draw it because I just liked it.
O/C Kitsunai:
So, that wasn't necessary to be directly linked to religious thinking even though you drew a Buddhist image. You just drew it because you were attracted to its beauty as an object.
USUGROW:
Yes, it all started from the beauty of its form.
O/C Kitsunai:
I agree with you, there are many things that can be valued without reason and religious thinking or philosophy because it just looks cool. We should just enjoy watching its beauty especially things like Buddhist statues and temples.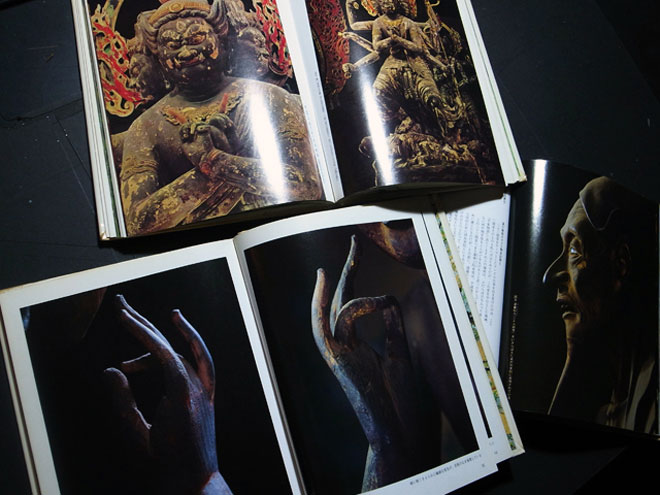 USUGROW:
I said that the beauty of its form was the first thing got me into, but of course the first impression of its beauty and quality is always important, then you start wanting to learn about it more.
No matter how good a message or concept is, it's just the result of self-complacency if it's not valuable as creation. Maybe it can be considered as one aspect of art.
But for me, it's important to think about how people will react, or how much this can be motivational for people when they see my artwork. That's why I create, show and sell them to people, I think.
O/C Kitsunai:
So rather than insisting how you want to show it, you care more about how people feel when they see it, or how valuable and effective your artwork will become for them. Therefore, you are saying that it's important to have its aesthetics and quality of the creation itself, right?
Is this something that you realized through the experience of drawing a flyer and album cover, showing them to a lot of people, and making them into T-shirt and so on?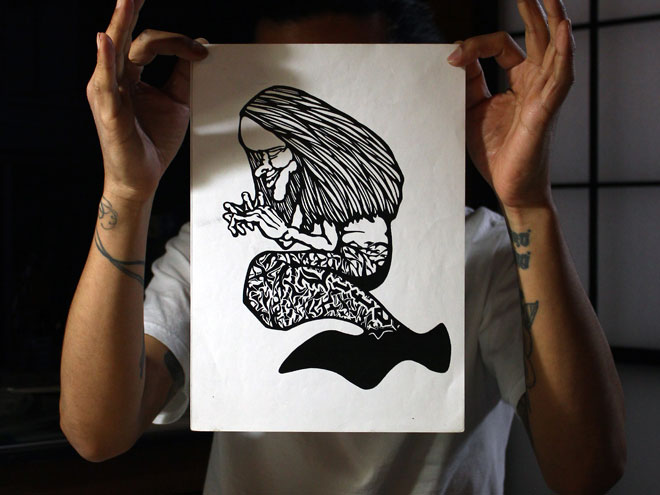 The artwork from 1993, so-called "mermaid image" the origin of Usugrow´s current style.
USUGROW:
I think so. I used to get to see my artwork through an objective perspective, and I still do. T-shirt, album cover, exhibition at gallery, there are a lot of things I find by seeing my artwork exposed in public. And this is definitely important for me.
In upcoming interview, we continue talking about his activities around 2000 which is the time he has established his art style, provided a lot of artworks to domestic bands and clothing brands, and expanded his own brand.
translated by Junko Hanzawa
USUGROW OFFICIAL WEBSITE :
http://usugrow.com/